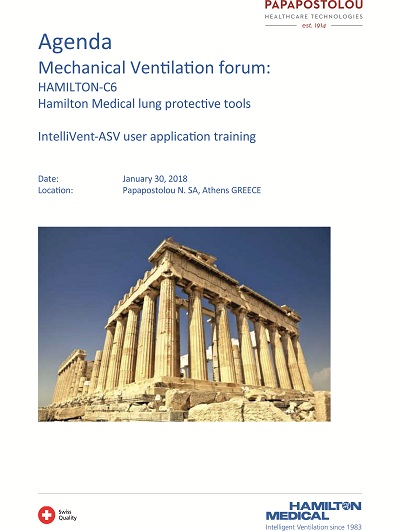 On January 30th, product training for our High End ventilator Hamilton C6 took place at the premises of Papapostolou Company in Athens.
The training was attended by mr Bernhard Schmitt (Hamilton Team Leader Clinical Concepts), mr Aleksandar Maksimovic (Hamilton Area Sales Manager), messrs Michalis Vlachos, Thrasivoulos Spanidis, and Matthaios Littas from Papapostolou Sales Team, and messrs Christos Antonopoulos, Konstantinos Laliotis, Athanasios Houhoutas, and Christos Panagopoulos from Papapostolou Service Department.
On January 31, 2018, INTELLiVENT-ASV user application training was carried out at the Intensive Care Unit of the General Hospital of Cancer and Oncology "St. Savvas ", where four (4) new high-performance respirators were recently donated by the Hellenic Cancer Institute, including the 1st HAMILTON-S1 ventilator in Greece, the world's leading and unique auto-pilot ventilator.