Innovative dual-wing floating arm
21.5 inch high resolution LED monitor
12.1 inch tilting multi-gesture touch screen
Gel warmer
Single crystal transducers with 3T technology:
It's based on single crystal with Mindray unique 3T tehnology (Triple-matching layers, Total-cut design, Thermal control), providing a wider bandwidth to simultaneously offer better penetration and higher resolution, resulting in an optimum scanning solution for technically difficult patients.
Natural Touch Elastography with a unique shell for tumor infiltration analysis provides high stiffness sensitivity.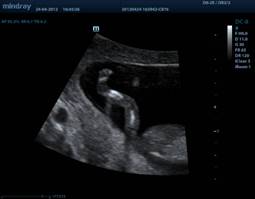 The advanced technology which is based on a real time algorithm, reduces noise and enhances tissue contrast by improving sharpness.