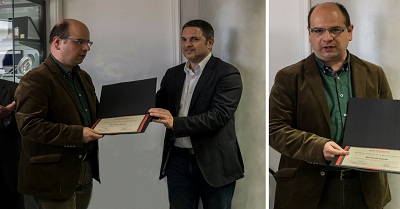 During a warm and moving event that was held at its Conference Center in Neo Psychiko, PAPAPOSTOLOU awarded the GIANNI KIRITSI EXELLENCE AWARD to the 2017 graduate of the Biomedical Engineering Department with the highest grade point average.
The award, was received by the representative of the Biomedical Engineering Department, assistant professor Mr. Nektarios Kalyvas who emphasized the long-term and fruitful cooperation between the Department and our Company.
By establishing this prize, our Company seeks to reward the excellent work that takes place in the Department of Biomedical Engineering, recognize the students' long-term effort to acquire knowledge and encourage young people to carry on their professional careers with the same zeal and consistency.