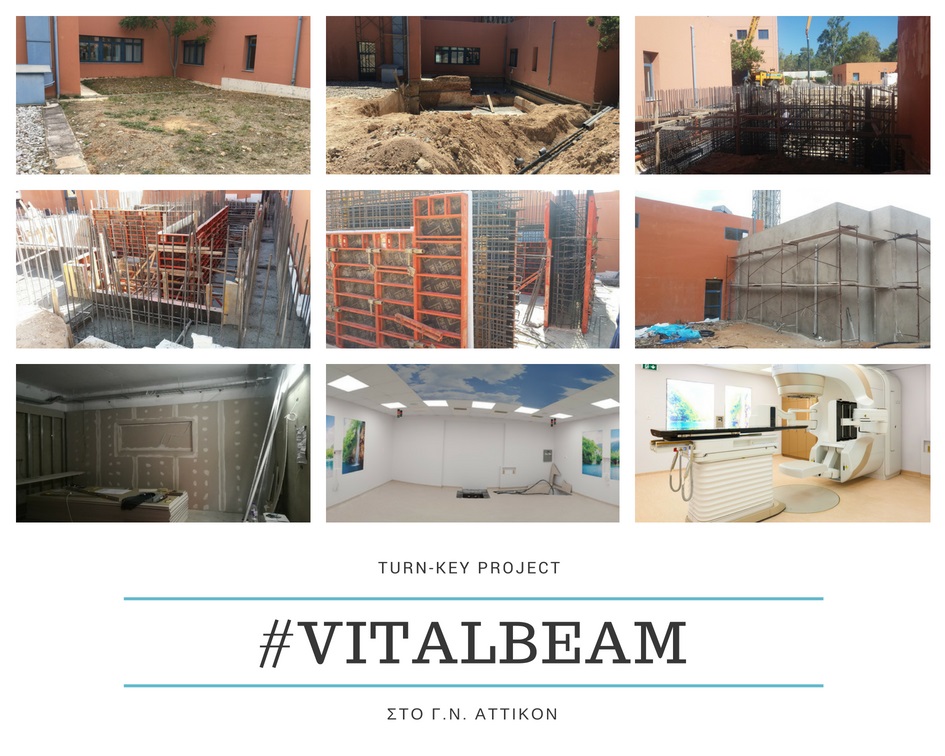 The first VitalBeam™ linear accelerator in Greece, was installed and successfully put into operation at the Attikon University Hospital in Athens.
Due to the donation of the Stavros Niarchos Foundation, the Attikon University General Hospital in Athens, has acquired the state-of-the-art linear accelerator VitalBeam™ by Varian, which is a truly revolutionary therapy platform, and an invaluable weapon in the fight against cancer. Within the next few months, the installation of the second VitalBeam™ linear accelerator is going to take place in the Attikon University General Hospital in Athens.
PAPAPOSTOLOU company, known for its experience and and efficiency in the accomplishment of turn key projects, carried out successfully the procurement and installation of the radiotherapy equipment VitalBeam™ at the Attikon Hospital as well as the training of the personnel.
PAPAPOSTOLOU has built a specially designed and armored treatment room, with an operating and control room that allows clinicians to tailor treatment delivery.
It is worth to mention that due to the advanced architecture of VitalBeam™ which concists of an advanced MLC 5mm, a 43×43 cm imaging field (MV), a built in CBCT, and a real time imaging during the treatment, even the most difficult clinical cases can be treated efficiently and accurately. The Maestro control system, conducts the system by directing, synchronizing and onitoring all of the system's fully integrated, functional components, making treatment fast and efficient.
The VitalBeam™ has a very fast machine performance check (MPC), a unique feature, which is designed for fast and reliable daily system testing, before patient treatments begin.
Moreover, the VitalBeam™ Treatment System, goes woth the ARIA – OIS for Radiation Oncology, and the Eclipse Treatment Planning System which took the first place at the World Championships of Treatment Planning.